Watchmaker Bench designed by Master Watchmaker Dan Spitz
Finally a Watchmaker bench top made for master of complications & ergonomic perfection. 
We ship worldwide !  .. Many benches have gone to the UK .. .  Get yours .. .  -Dan Spitz-
Testimonials :
Happy Watchmaker from the UK
I have just received the bench and I am extremely happy with it. I've never seen a piece of wood like it. Thank you for all your work with getting it sent over.
Very happy customer,
Mark
Happy Watchmaker USA
Love My Bench, Great design and it will outlast me. Very Stable, Great size. You can't go wrong with this bench. 
Ken Goss
It has taken me over a year to design what I think is the finest ergonomic Watchmaker bench available anywhere.  In cooperation with Michigan Maple Block a premier butcher block manufacturer (and doing this since 1881) we have put in countless hours of research and development to bring you a product like no other.
I have spent a lot of time around the world working at the finest (and worst) Watchmaker benches available. I've now taken my years of expertise in this area and used them to bring to market a product that marries the best of what I have had the pleasure of using, and the know how of manufacturing the ingredients that were certainly missing.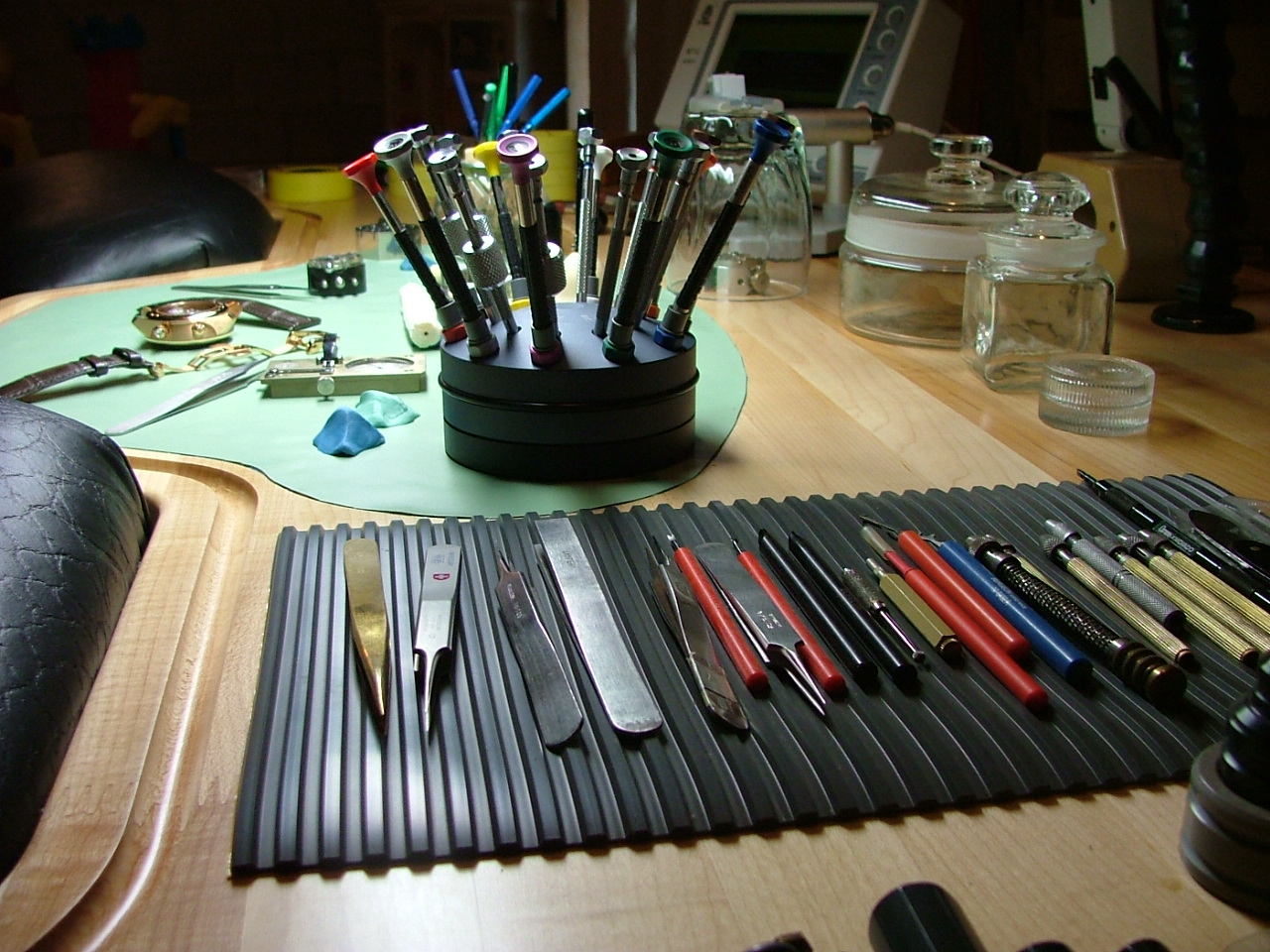 I suffer from extreme carpal tunnel syndrome due to my years of guitar playing, years of watchmaking and years at the computer, so I had to do something to enable myself to keep working at the bench in an ergonomic fashion that was previously not available at any price. These drawings and renderings started many years ago, but not until recently did I find a reputable company in the good old USA to understand the intricacies of our needs as Watchmakers, and to bring forth the man hours needed to produce a product that attacks the smallest detail of craftsmanship and swiftly renders it to perfection, just as we do as Watchmakers.
My friend Joe at MMB has an understanding for our needs and took the time from his busy schedule to research what ergonomics we must have that are so peculiar, verses all other industries. The quality of our end product has no equal I assure you.
I wanted to produce a Watchmaker bench that was under the usual $10,000 price tags of the finest Swiss offerings so it can be available to anyone that is independent and of course Watch manufacturers who safeguard their monetary outlay. So I'll explain further how you can obtain the bench and how relatively inexpensive it is.
You are looking at 3″ (that's a solid three inches) thick butcher block top made from the finest USA hard maple available this side of a Fender Telecaster neck. Depth dimensions at ends and center section work area are 31″. Dimensions of total length are 72″. It weighs in at close to 280 pounds shipped and crated. This is massive and solid and beautiful!!!!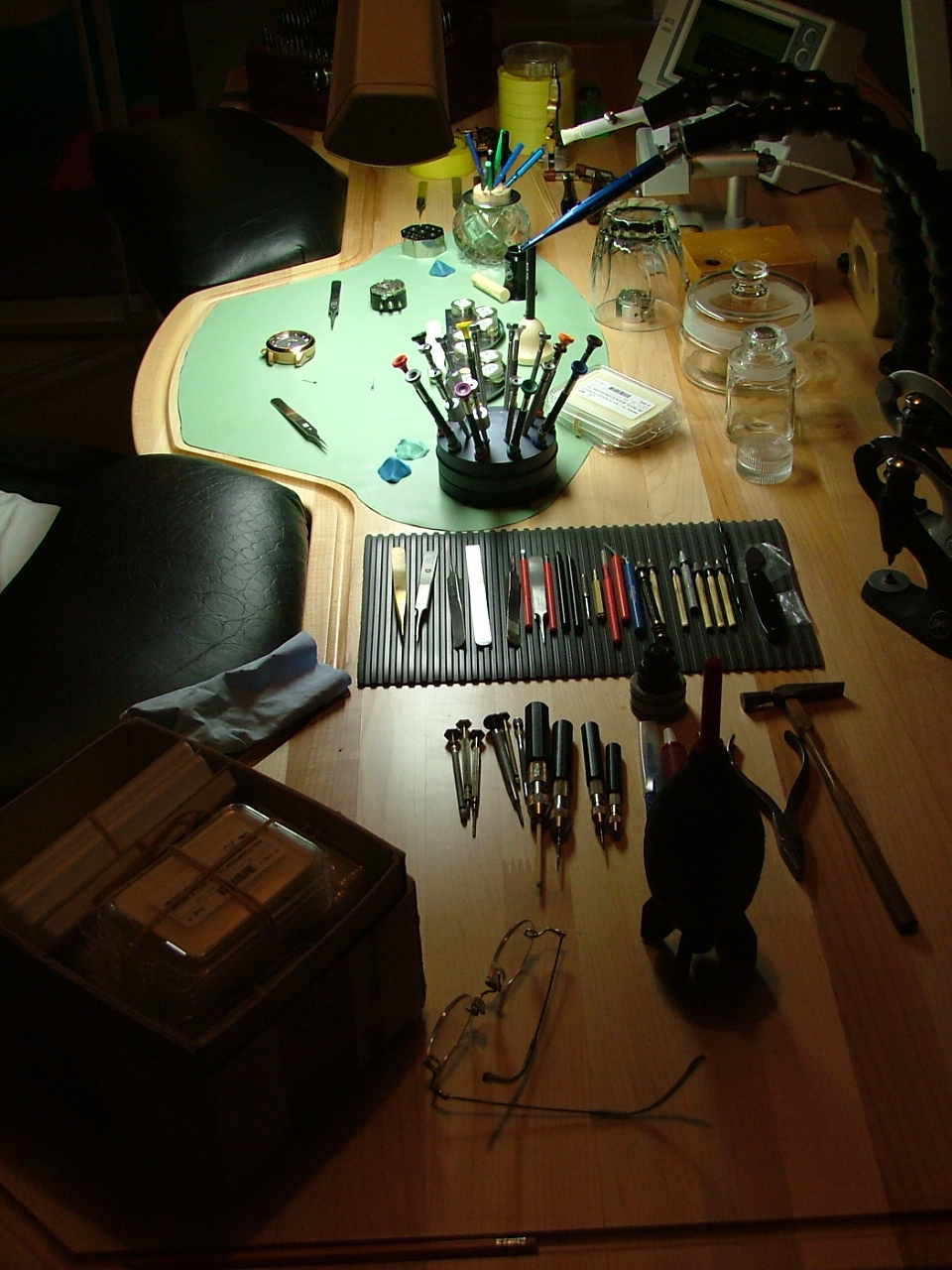 So here is how it works:
The purchasing and funds go directly to Michigan Maple Blocks USA distributor partnership for our product

(

Dawn at Dawns Depot

) PayPal or Credit Cards accepted for payment. 
Email:

dawn@dawnsdepot.com

 for a shipping quote 

The table top is sold with the arms pictured

Purchase your own base, your own lights, your own vacuum systems, compressors systems on your own.

You can cover the arms with memory foam and real leather like me (on your own).

It comes shipped in a professionally constructed wood crate via trucking company to your door.

It comes crated so well you will wonder how long the crate took to make before you even open the bench.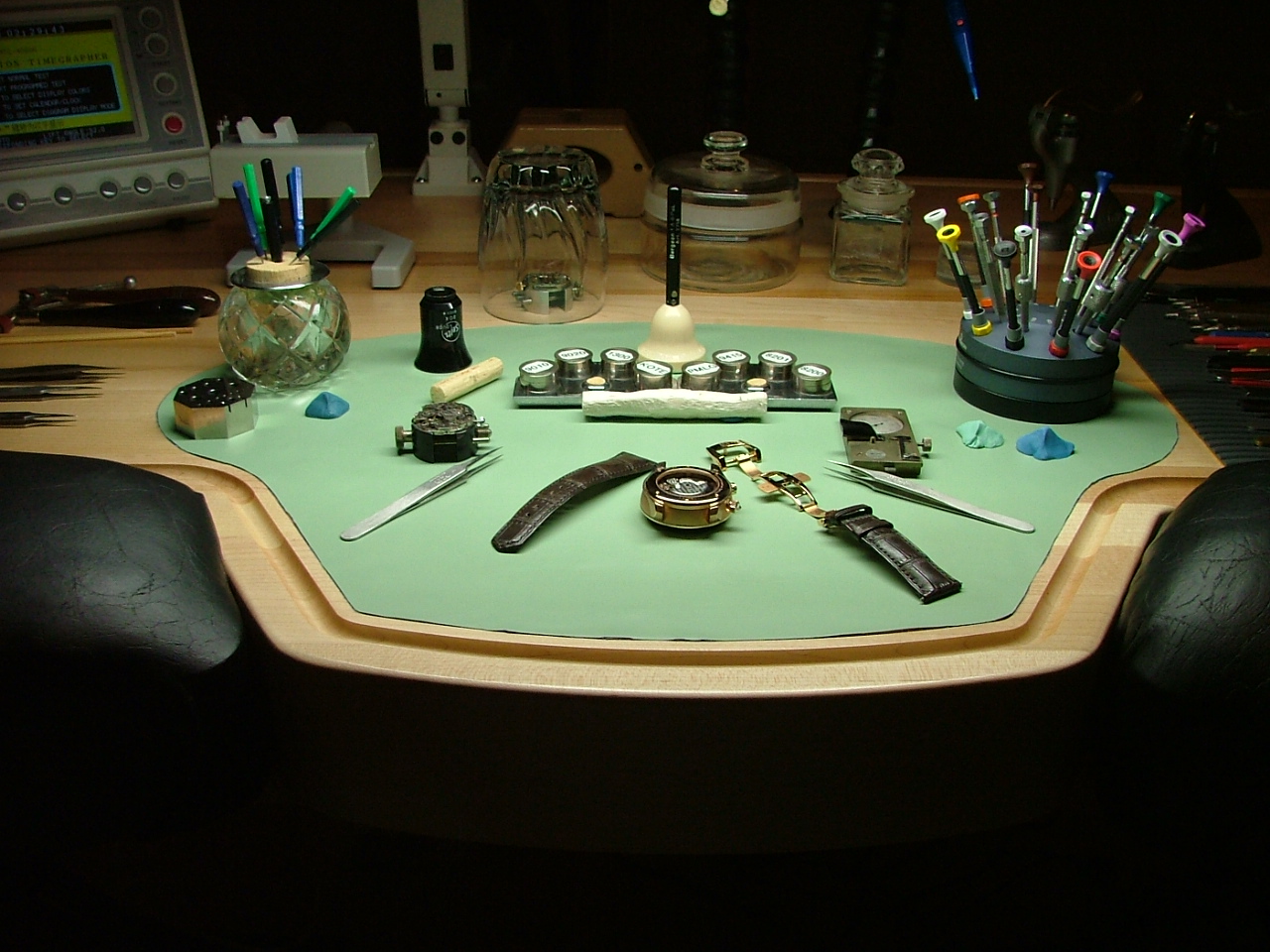 So as you can see I want ALL Watchmakers to have a great bench! You can buy the top and slowly upgrade your bench as your funding allows you to. I feel the most important part to produce is the bench top. I assure you that at the $10,000 + level of Swiss benches (I have owned them)  are only 1 1/2″ thick of foreign maple block and not 3 solid inches of AMERICAN HARD ROCK MAPLE!
This bench is 3 inches of solid construction. This has never ever been done before for Watchmaking.
The working surface where the green matting sits has been thought out for months for it's unique shape. It leaves a wider mouth where your larger tooling sits at the back end, and oil cups can be brought in or out and still leaving the extended main working surface angling out from the beautifully rounded front edge where your chin often sits giving you the feeling of much more room to work comfortably. Use your own green or white matting as it comes pre routed at the common depth for the usual.
Of course the entire perimeter has a nice deep parts catching reservoir and I use the Bergeon vice on the left side option. Simply send Dawn your Bergeon vice base plate and it will be installed as mine is.
There are plenty of bases from crank hydraulic, electric hydraulic, to simple X frame music stands that can be used (do a google) saving you tens of thousands of dollars and giving you a Watchmaker bench that simply arguably has no equal I know of, or have sat at.
You bench is your most valuable piece of equipment and is an investment in your health and well being. A little "do it yourself" ingenuity and you'll be a very happy Watchmaker with the Dan Spitz bench.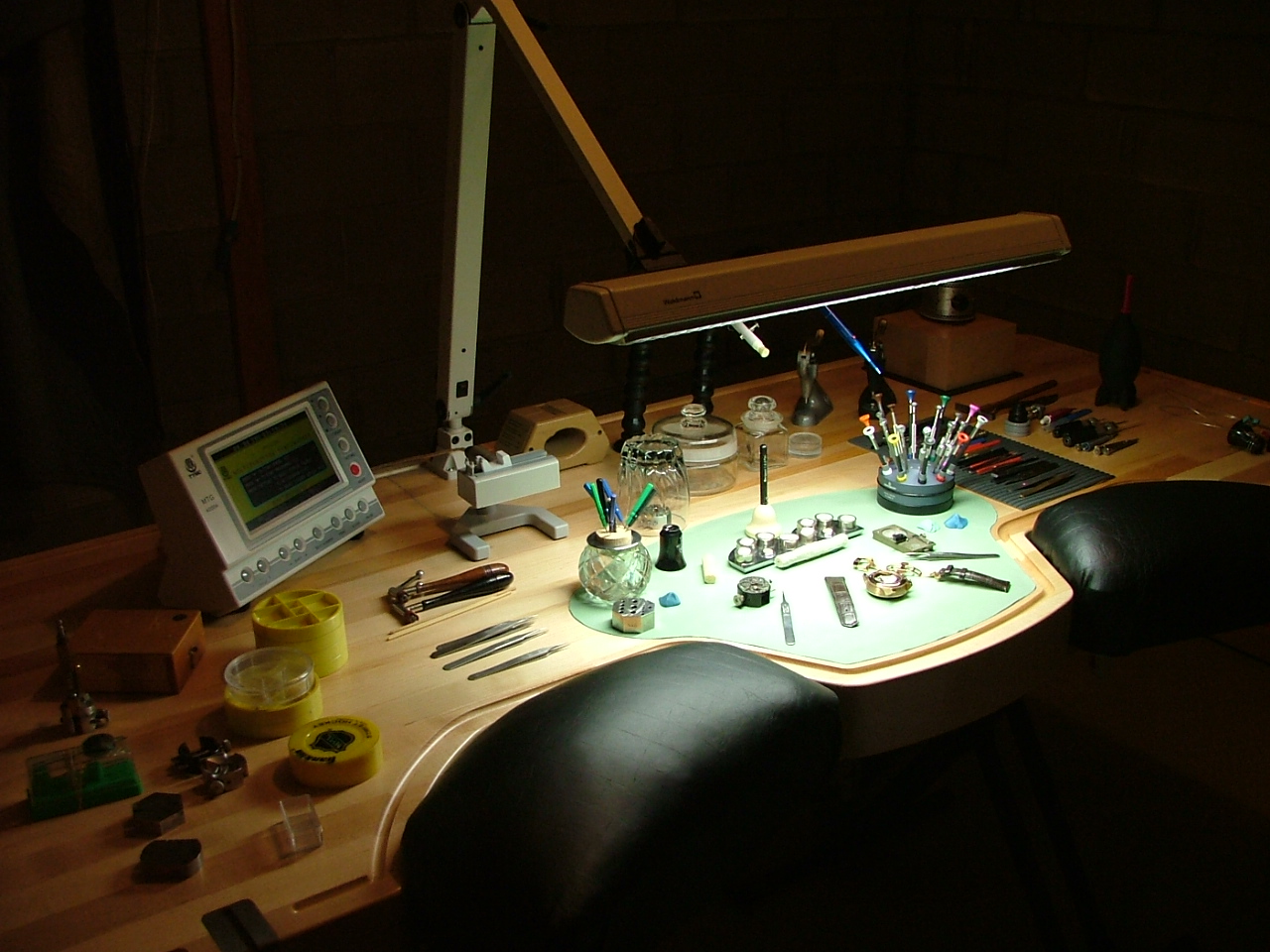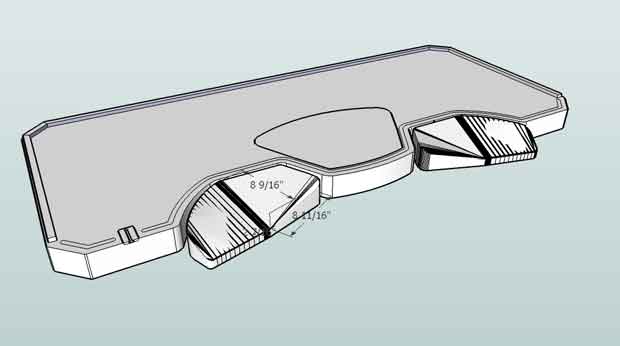 As you all might be aware I like to give back to others what my knowledge and traveling experience brings me. This has been a labor of love to produce, register and bring to market in my EXCLUSIVE partnership with MMB, DAWN at Dawns Depot (MMB's distributor) and all others at MMB who partake in the production of such a unique piece of fine Swiss furniture that is solely manufactured in the good old USA !!
Pricing:
$2275 pricing
Discounts are available for quantities of 3 or more
Shipping additional by ground. Please contact dawn@dawnsdepot.com  for your domestic or international quote
DIRECT CONTACT dawn {at} dawnsdepot {dot com}
Daniel
How a 3 inch thick Michigan Maple Dan Spitz Watchmaker Bench Top Is Manufactured