Ergonomic Perfection
Building upon my years of expertise sitting and teaching at Watchmaking benches around the world I bring to market a product that simply is a work of human art.
Since 1881
In cooperation with Michigan Maple Block who has been a premier top tier butcher block manufacturer since 1881 comes the only Watchmakers bench designed by a Master Watchmaker.
Worldwide Shipping
Using innovative overbuilt crating techniques we have shipped these benches across the globe. Please use the contact form for your shipping quote.
Standard 1 Bench Top
Contact For Shipping Quote
Always Crated
Three Inches Solid Hard Rock Maple
Perimeter Parts Groove Included
Hand Rubbed Finish
Options Available
Discount 3+
$
2275
Contact For Bulk Discounts
Contact For Shipping Quote
Always Crated
Three Inches Solid Hard Rock Maple
Perimeter Parts Groove Included
Hand Rubbed Finish
Options Available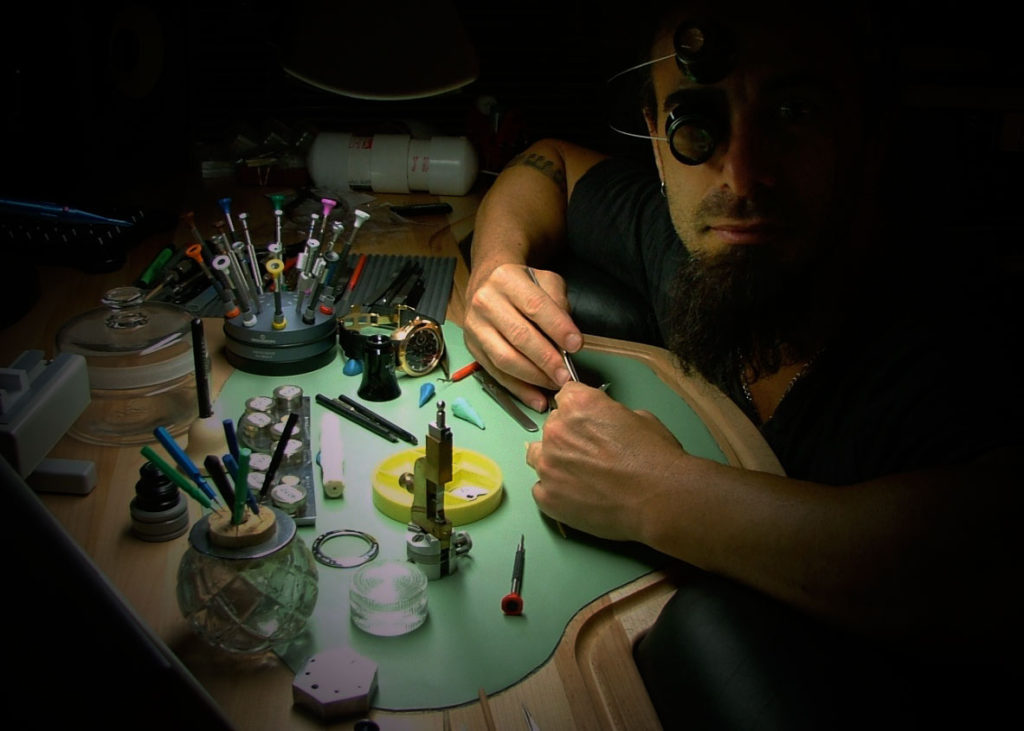 Designed by a Master Watchmaker
Building upon a 46 year legacy of sitting at Watchmaking desks around the world I decided it was time to partner with Michigan Maple Block a premier butcher block manufacturer to produce what I think is the finest Watchmaker bench available. The remarkably intuitive design combines an ergonomic center work area section that allows the Watchmaker to concentrate on his performance skills instead of being lost in a sea of discomfort. Ease of use and intelligently chosen reach points make it virtually impossible to not complete your task and problem solving micro mechanics in a smile and comfort!
Joe at Michigan Maple Block has the understanding, experience and insight from working as one of the  industry's top maple block manufacturers. I've spent over one year of research, programming and two years of testing thereafter to secure the small ergonomic details for the Spitz bench.
At this price, there is no other Watchmaker bench made from the finest quality three inch thick American hard rock maple. Handcrafted in the USA, built like a tank, built to endure, the epicenter of your Watchmaker art will be the Spitz bench.
I wanted to produce a Watchmaker bench that was obtainable and could be built upon as cash flow allowed. The $10,000-$15,000  price tags of the Swiss offerings plus the shipping are just not in the cards for an independent Watchmaker or small multi Watchmaker business. In addition, the tops are less than half the thickness, they can't source the American hard rock maple we have and are catastrophically priced for large corporations.
The Spitz bench is 3″ (that's a solid three inches) thick butcher block top made from the finest USA hard maple available this side of a Fender Telecaster neck. Depth dimensions at ends and center section work area are 31″. Dimensions of total length are 72″. It weighs in at close to 280 pounds shipped and crated. This is massive, solid and beautiful.
All Watchmakers should have a great bench. The idea here is to purchase the Spitz bench and slowly upgrade as your funding allows you to. Grab a Spitz bench and a height adjustable hydrolic base to start, add in the drawers later. Upgrade to a vacuum system and blower later. Perhaps grab just a simple inexpensive X frame just to get going and grab the hydrolic stand later. The most important part to produce proper work with no fatigue or long term medical problems is the bench TOP and its height relationship to your body frame.
The unique shape of the center working surface has been thought out extensively. It leaves a wider mouth where your larger tooling sits at the back end. You can place the oil cups and screwdriver carousel  in or out and still have the extended main working surface clear of any intrusion. Precision angling the section out  from the rounded front edge where your chin often sits gives a Watchmaker the feeling of much more room to work comfortably. By the way that front edge where your chin and drool often sits is nicely rounded. Only a Watchmaker would go to that extent of thought.
The entire perimeter has a deep parts catching reservoir old school style. It's saved me countless times, was a costly manufacturing upgrade, but necessary. I use the optional Bergeon vice on the left side for my Jacot tool. Simply send Dawn your Bergeon vice base plate or we can provide.
There are plenty of bases from crank hydraulic, electric hydraulic, to simple X frame mobile stands that can be used. Rolling drawer containers are an easy find. All of this saves you tens of thousands of dollars and gives you a Watchmaker bench that simply  has no equal I know of.  A little "do it yourself" ingenuity and you'll be a very happy Watchmaker with the Dan Spitz bench.
I have just received the bench and I am extremely happy with it. I've never seen a piece of wood like it. Thank you for all your work with getting it sent over.

Very happy customer,
Mark
Love My Bench, Great design and it will outlast me. Very Stable, Great size. You can't go wrong with this bench. 

Ken Goss
This has been a labor of love to produce, register and bring to market in my EXCLUSIVE partnership with Michigan Maple Block and Dawn at Dawns Depot (MMB's distributor). I would also like to thank all the other wonderful people who had a hand in this at MMB who partake in the production of such a unique piece of fine Watchmaker furniture that is 100% manufactured in the good old USA !!
WATCHMAKER BENCH DESIGNED by SPITZ
Worlds only 3 inch thick Michigan Maple Block Watchmaker bench designed by a Master Watchmaker. Shipping worldwide.
DIRECT CONTACT
dawn  [at]  dawnsdepot  [dot]  com
ALL WATCHMAKERS SHOULD HAVE A GREAT BENCH

" YOUR WATCHMAKER BENCH IS YOUR MOST VALUABLE PIECE OF EQUIPMENT. AN INVESTMENT IN YOUR HEALTH AND WELL BEING."