Daniel A. Spitz Presents
Caliber J11.13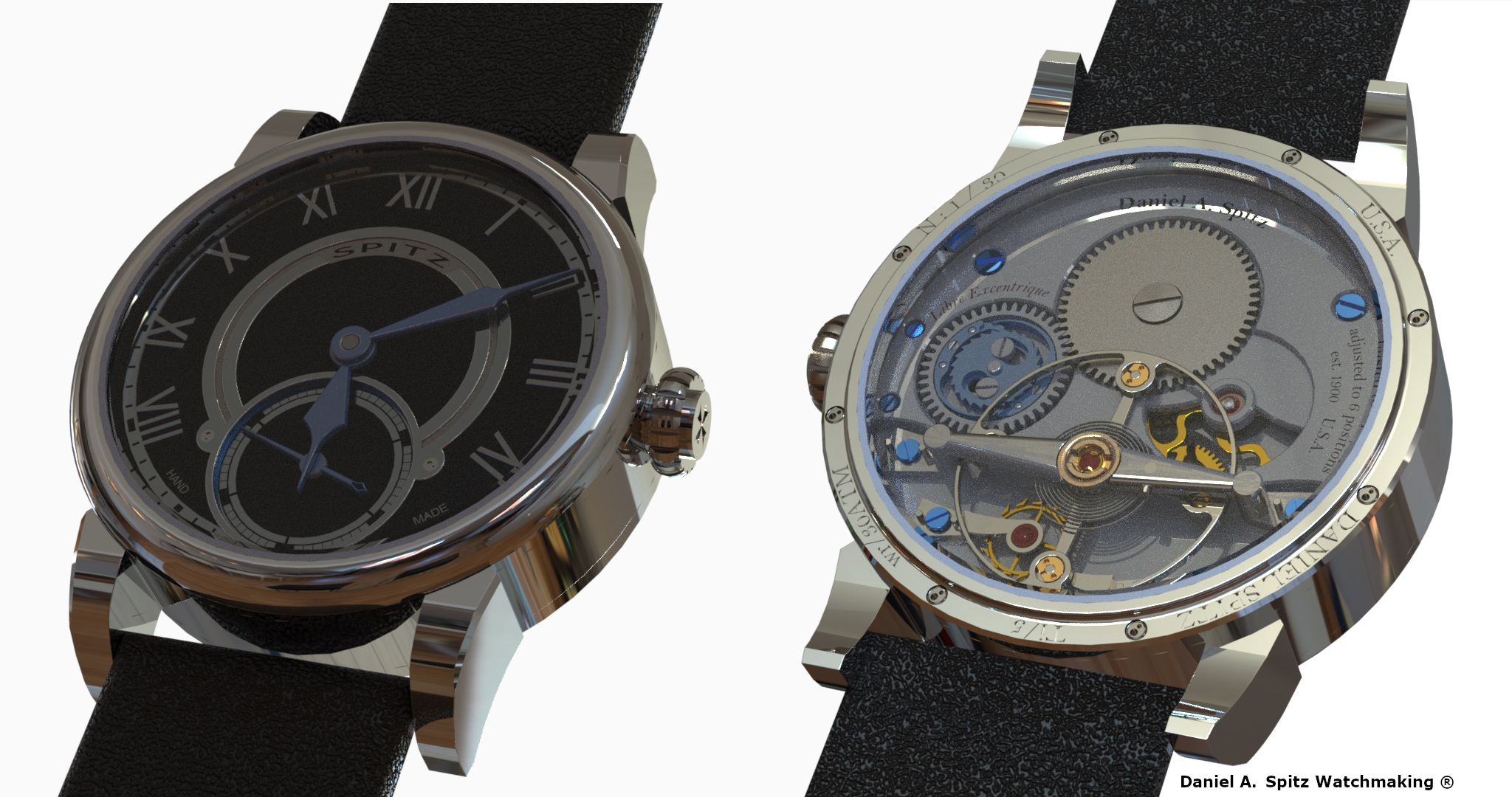 Daniel A. Spitz works in his atelier as an artist utilizing skills he's mastered over more than 40 years at his watchmaking bench. He expresses his creativity with horological micro mechanical construction through horological art. His style harkens back to a time lost, when we all built things to last. 
His independence allows him to have total creative freedom. He is a curator of ancient watchmaking machines and tools used in the past to create masterpieces that have stood the test of time, and abuse. He works alone on his restored machines constructing everything himself from initial idea to a completed micro machine beating its first  heart beat in his hand.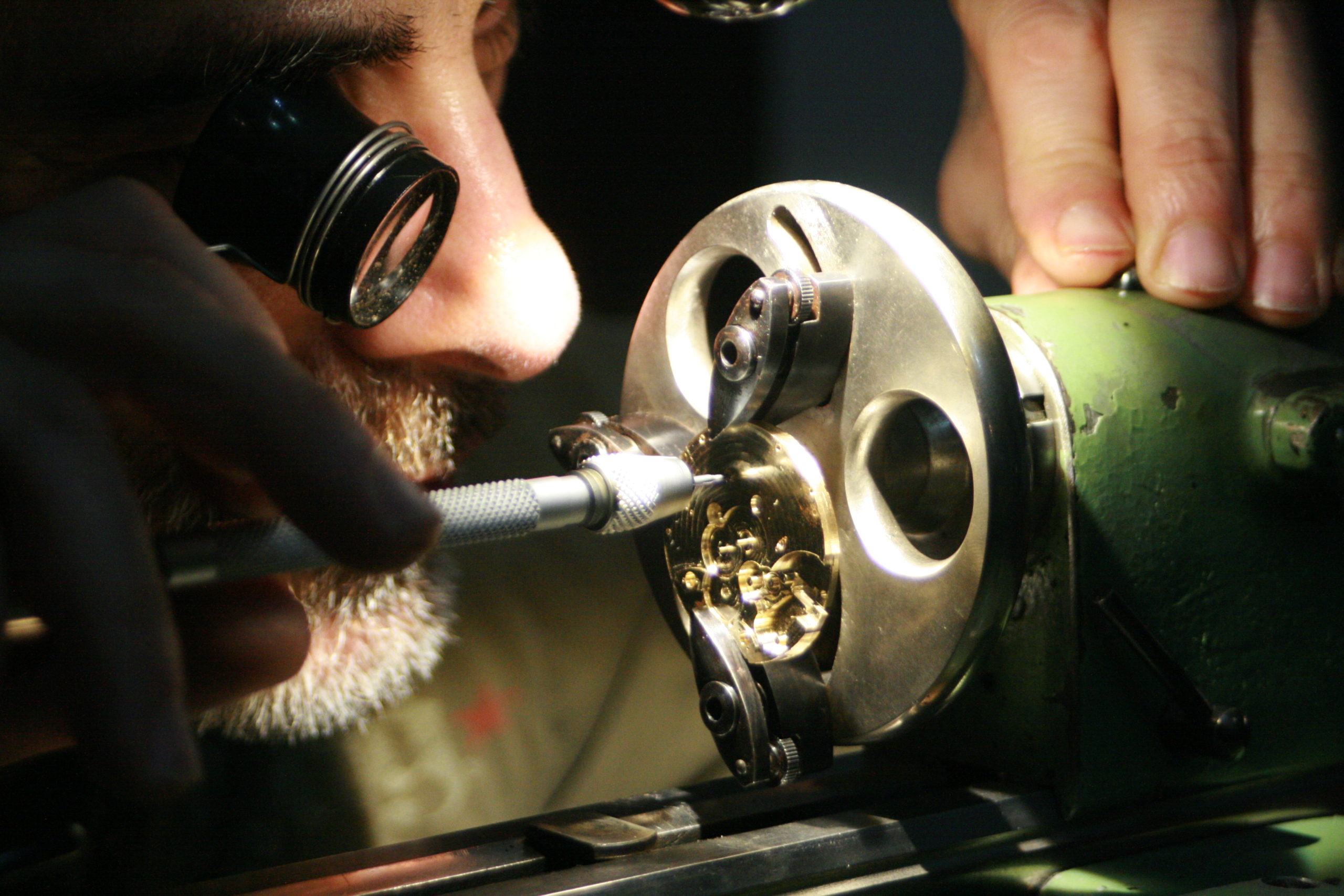 Caliber J11.13
Re-inventing the offset oil-less pallet fork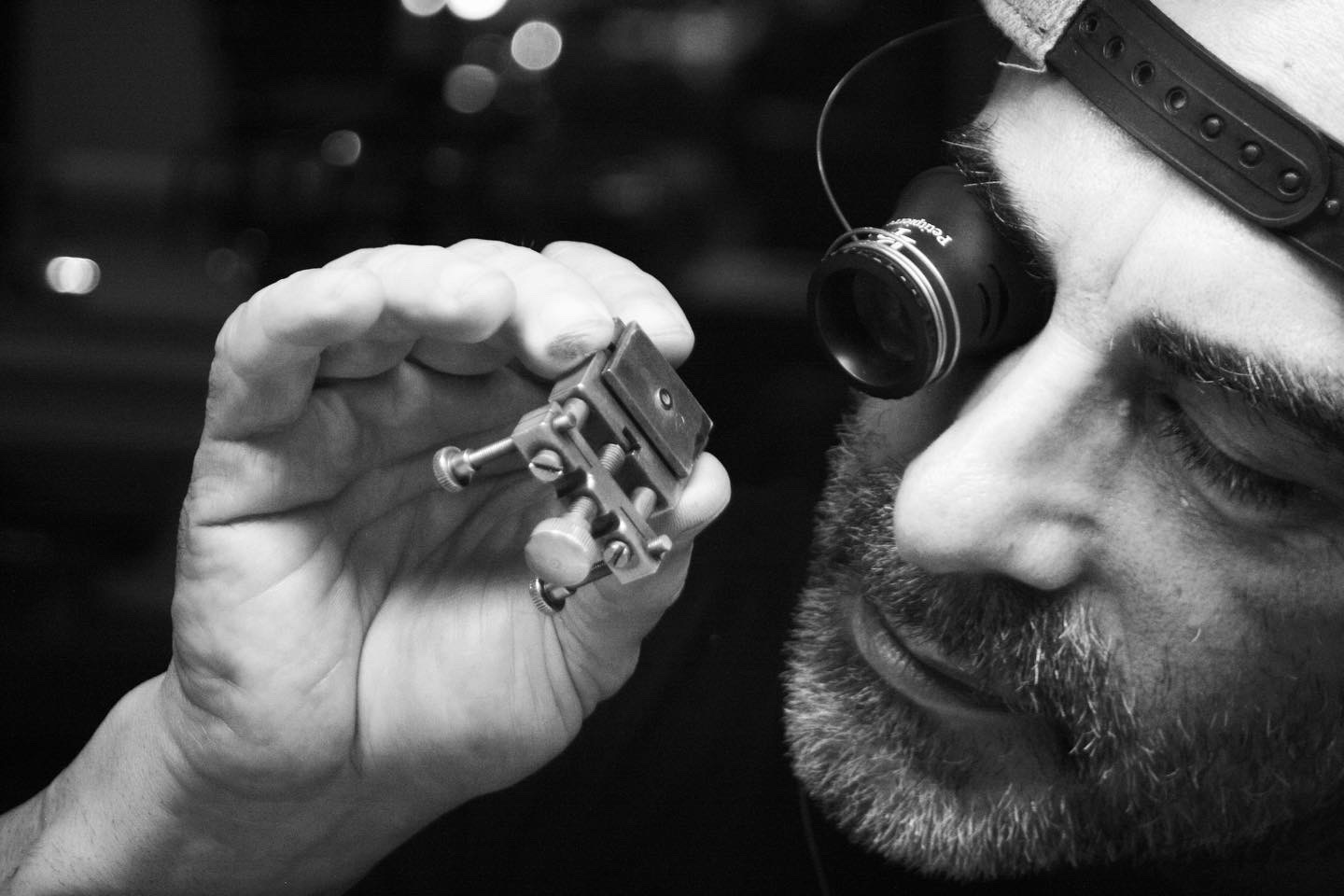 Three long years of full time research and development brings forth the next step on his journey of hand manufacturing and finishing an American haute horology caliber, from a very special Watchmaker. After helping many other top Swiss companies with their own calibers Mr.Spitz is finally at a point to do so for himself, and watchmaking in the United States. This is an incredibly huge undertaking to do outside of Switzerland.
Re-designing and miniaturizing to wrist watch size a full titanium single impulse shock resistant no oil escapement from an early 19 century drawing is of no easy task. A marine chronometer with shock resistance is caliber j11.13. Utilizing an offset shock counterweight, coupled with the worlds smallest titanium hand made escapement spring in watchmaking (smaller than the thickness of one human hair) is no small accomplishment. All parts of this one of a kind pallet fork are manufactured from raw materials right here in our atelier.
Caliber J11.13
The Over Sized titanium balance wheel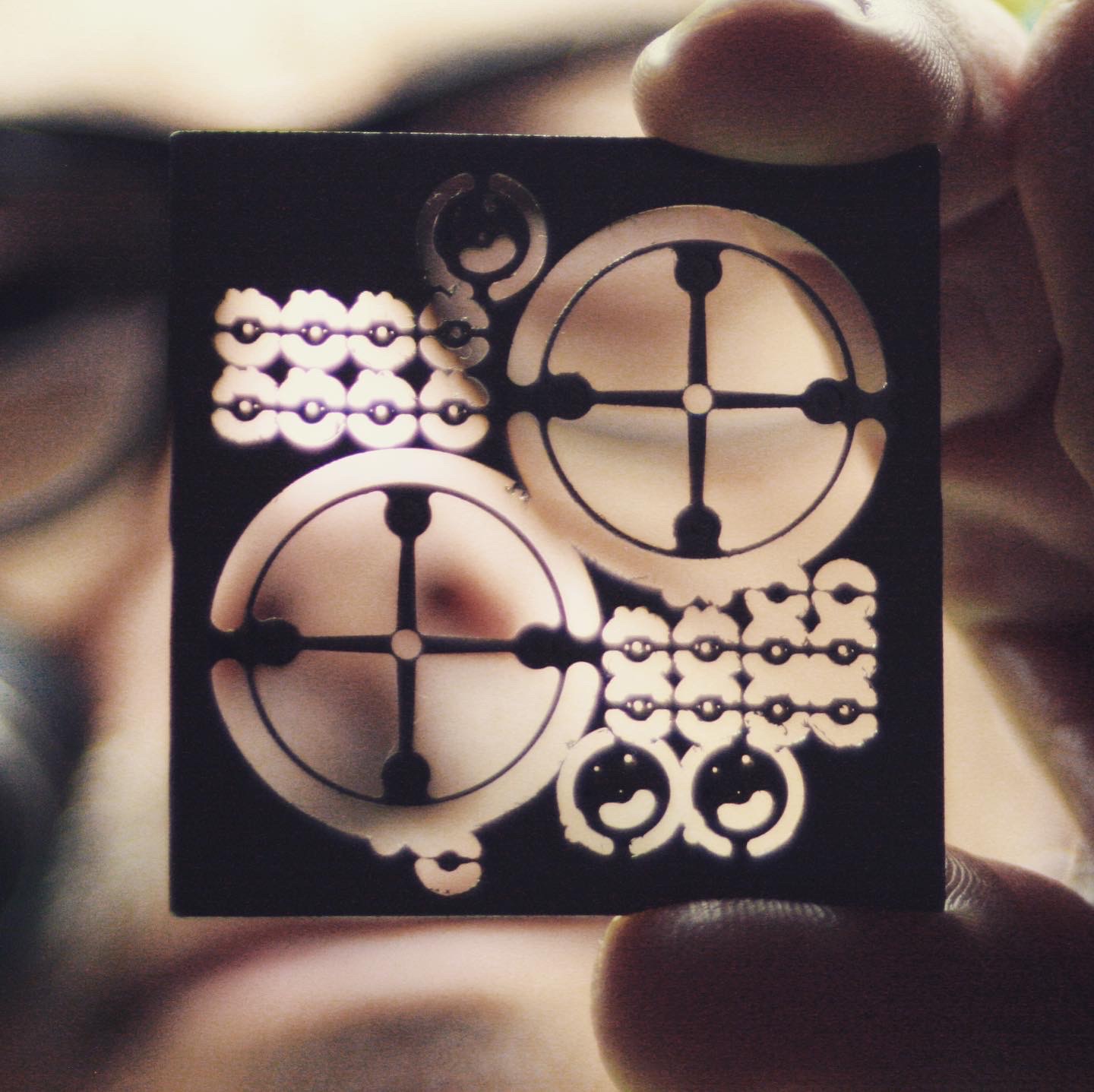 There are many aspects of high horology inside his new caliber only someone with years of restoration and after sales service of some of the worlds most complicated watch movements could have the know how to produce. Robust longevity, high horology, along with beauty.
Free-Sprung balance, exact positioned beat length by hand & eye on our E.Luthy Hirt vintage timing device.
18,000 vph
Oversized solid titanium balance wheel with four eccentric hand made precision timing weights.

 

Oversized free eccentric thrusting roller with pressure fit hand cut no oil jewel and passing cutaway.
Hand made custom hairspring.
Hand made hairspring specialized terminal curves.
Hand made extended balance staff to accommodate specialized thrusting roller inner, small roller, and balance on top of bridge placement.
Hand made hairspring stud.
Hairspring hand pinned to stud.
Only independence can allow for the time of a Master (who loves his art) to do so many tasks for just one part.
Caliber J11.13
An oil-less escape wheel and pinion completely made in our atelier, by hand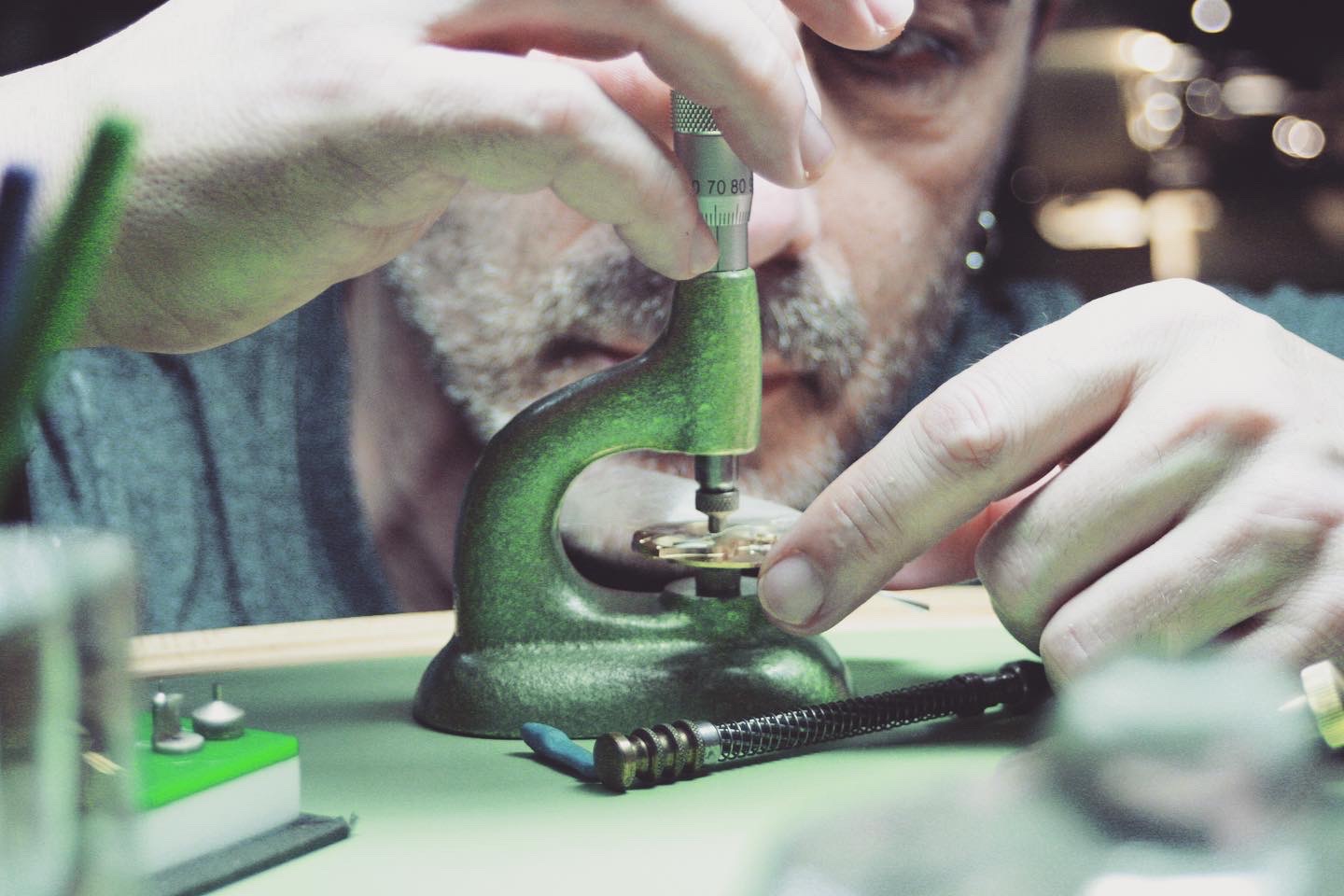 The ability for us to manufacture our own escape wheel from raw high grade titanium in our atelier, with custom hand made cutters, isn't for the light hearted but is a key point to being fully independent. There are very few companies that make escape wheel's in house because of its complexities posing one of the large hurdles of independence. Utilizing, and building upon, a modern re-invention of 1800's Watchmaker Louis Richard's eccentric oil free escapement Mr.Spitz has reduced its size to fit within wristwatch size and created something rather spectacular in watchmaking by breaking this barrier and furthering its parts longevity and strength by finding a way to machine it from a certain type of high grade titanium. While fine tuning and poising the pallet fork was one hurdle of re-imagining a mechanical design of yesteryear, he also brought symmetry to its functional parts as a whole by utilizing an incredibly hard to machine metallurgy, titanium. All of this while working in tandem with a greatly oversized titanium balance wheel leads to a longer run down time of the mainspring, less power, instant torque and stress needed to push the train, and less wear on all jewels.
Keeping it simple using the least amount of parts to accomplish each sub components duties is what Daniel says was needed to be executed. From vast experience we know the more complicated a timepieces caliber is the more prone they are to something somewhere causing problems. So Daniel set out to strip it down to essentials and build it up with robust overbuilt thick parts reminiscent of an era past. 
A titanium escape wheel and hand polished steel pinion made from A to Z in our United States atelier. With an extended through plate pinion shaft it connects to the sub seconds wheel on the dial side. The teeth are a shape unique requiring a series of hand made cutters, jigs and procedures to produce an exemplary one of kind escapement .
Caliber J11.13
Specifications and information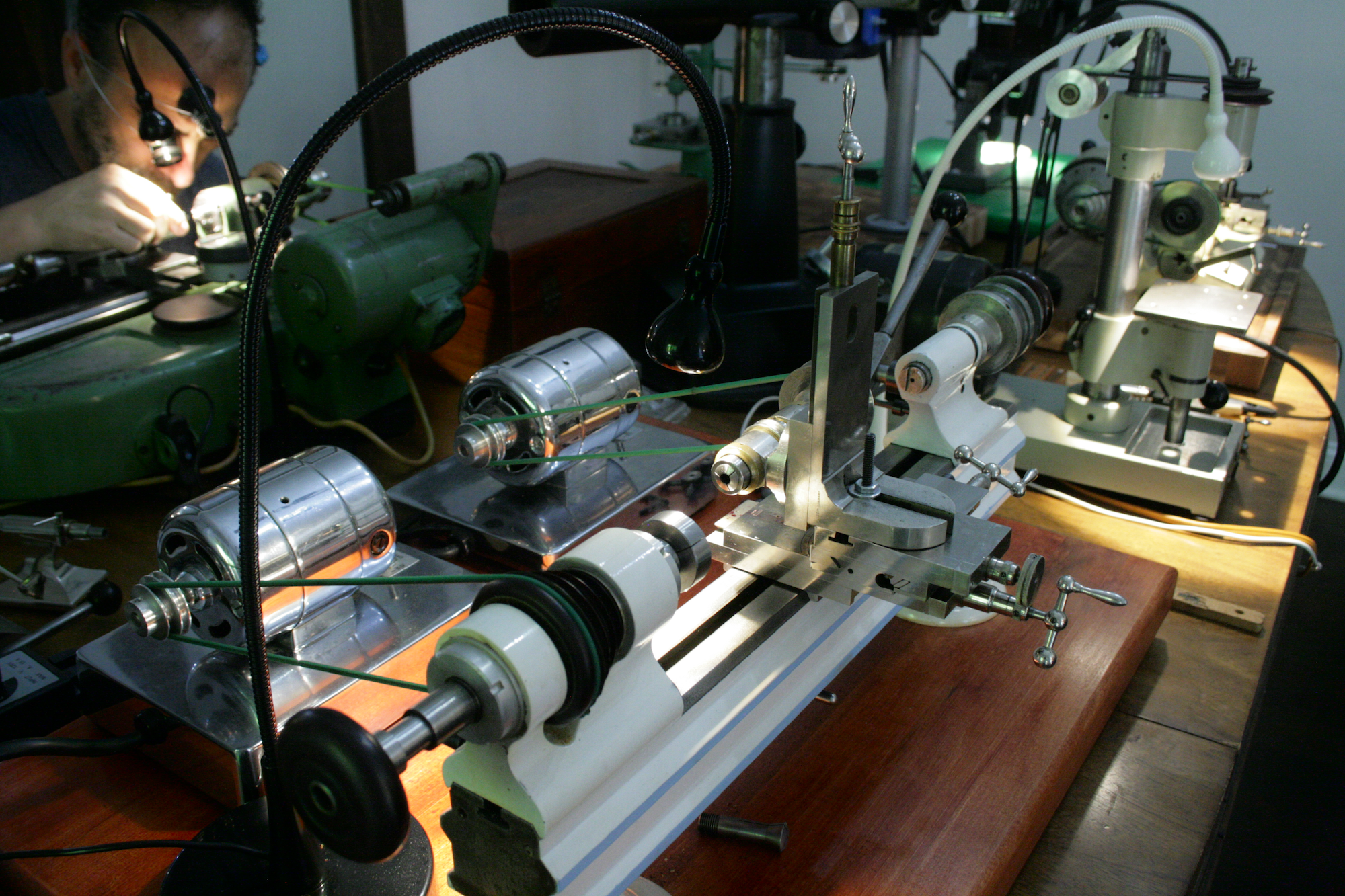 The J11.13 movement isn't based on any pre existing caliber and all parts must be made in our atelier. The gear train is completely offset to make room for an oversized centered mainspring barrel for constant even torque to the escapement. There is no center through plate great wheel / cannon pinion to hold the hands in this watch causing many movement design struggles over the years but constant perseverance has proved to open new doors to an outstanding mechanical artistic accomplishment.  Lets not forget the re-emergence of a dreamer's vision from the 1800's brought back to life in the form of a new kind of escapement, needing no oil, and running on titanium and jewels! One man's vision, one man's drive, one man's execution. Please follow along this new path of American watchmaking by a man who's past proves him to shake things up a bit, in a good way.